This article was initially published on the Alpine Property Intelligence website.
#supportourskiresorts : a new initiative from Alpine Property intelligence.
The coronavirus knows no boundaries, it has been a tragedy of the likes we have never seen, nor wish to ever see again. If the lock-downs do start to ease in a few months, we hope it is possible that those who wish to return to the Alps again may do so, perhaps in the summer.
We know the Alps are becoming an ever more popular summer destination, this will surely increase. Why sit on a crowded beach when you have vast spaces, clean air, lots of sunshine and beautiful scenery? The benefits for property owners are clear, either to use it yourself, or to increase rental income. Prospective buyers may have their first opportunity for visits over the summer months. Prospective buyers may have their first opportunity for visits over the summer months.
APi has written a little about summer in the Alps, there is a lot more to write about. The agents APi is partnered with live and work in the resorts, they know the place and local property market better than anyone. We are focusing on some of the finest resorts in the French, Swiss and Austrian Alps.
Why you should visit Villars this summer, by Gérance Service.
Villars is located on a south-facing plateau offering a marvellous view of the Alps and exceptional sunshine. The altitude of the village (1250 metres) and its natural environment are perfect for avoiding heart problems, stress and any pollution that stagnates above the plain of the valley.
What are the cultural activities and events that make Villars special?
Villars is an exceptional resort in summer because it is extremely close to places of culture like Montreux (Jazz Festival) and Lausanne (many museums including the Olympic Museum). Via the Col de la Croix, you can go to Les Diablerets and Gstaad (Yehudi Menuhin Festival). Via Gryon you reach Lavey les Bains and its wonderful thermal baths which are open all year round. Traditions are sumptuously celebrated each year: Mid-summer in Taveyannaz and Swiss National Day on August 1 with a costume parade and fireworks in the evening.
Golf is a highlight with one of the most impressive courses in all of Europe: 18 holes at 1660 metres above sea level with views of Mont Blanc!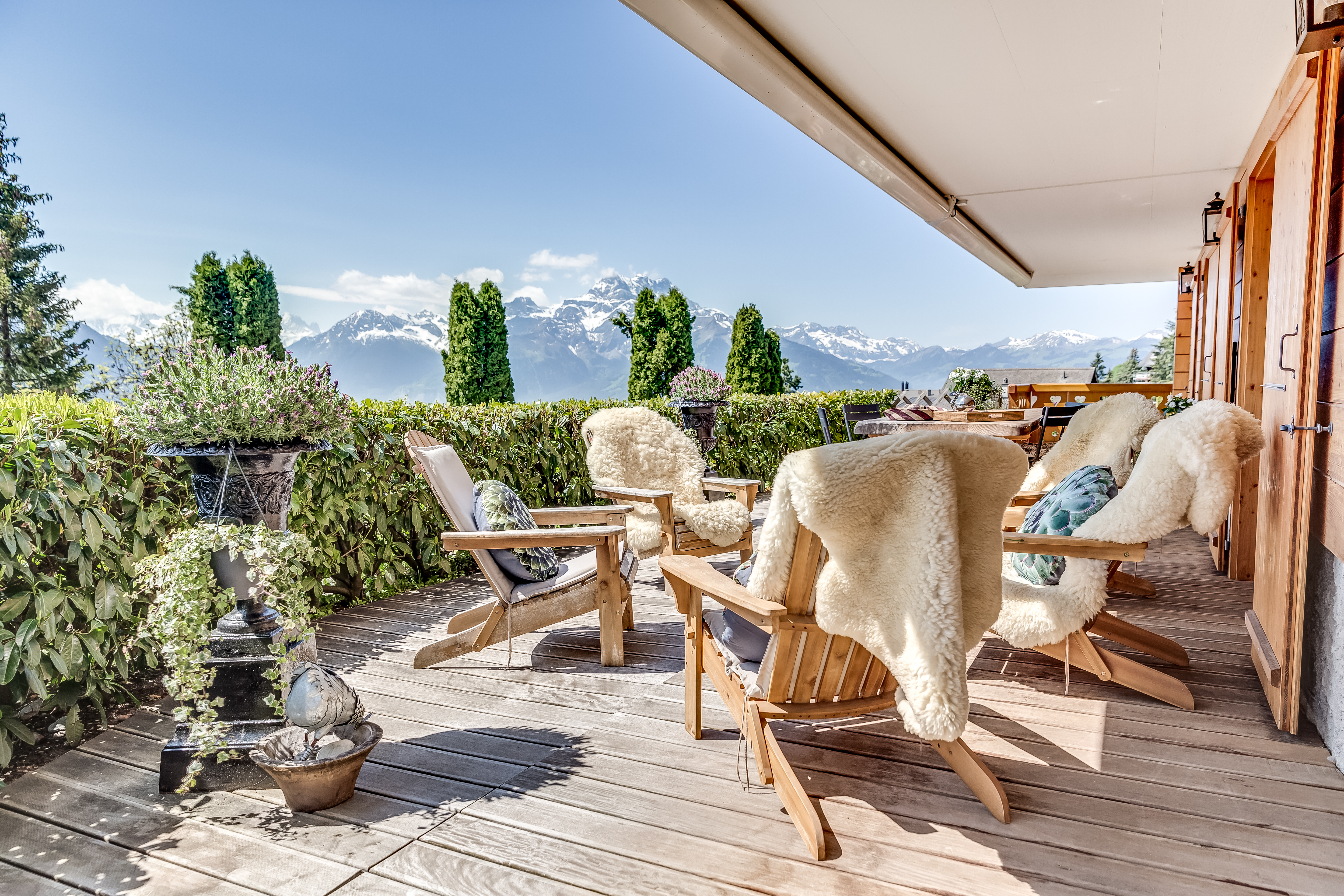 Are restaurants and shops open? Restaurants and shops will be reopened on May 11, the hotels probably also, depending on the decisions of the Swiss political authorities.
Do the lifts work in summer?
Some ski lifts operate in summer to allow walkers to quickly access the ski slopes and take advantage of the mountain air and the many well-maintained walks that surround the resort.
Is the station well suited to families ? Villars has always been considered a family resort due to the fact that nearly a thousand students are registered in private schools here: Aiglon Collège, Beau-Soleil, La Garenne, Pré Fleuri. These schools also organize summer courses.
Where can I stay: is there a large choice of chalets, apartments for rent in Villars? For accommodation: Hotel Viu, Hotel Royalp, Hotel Mountain Lodge, Hotel Alpe Fleurie, and from 2021 the reopening of the Villars Palace!
Via the Tourist Office it is easy to rent accommodation directly from owners or through the Interhome company, which has been very well established in the resort for more than forty years.
Can your agency help with rentals and will you have promotions during the summer? If not, where would you advise to look?
Our agency can of course help people who are interested in a purchase to organize their stay.
What would be your best advice for potential buyers and sellers in the current environment?
It seems that buying a second home in a country as safe and traditional as Switzerland is, more than ever, a must in the current troubled situation. The fundamentals of the Swiss economy are excellent. The national debt is very low. The country is ideally located in the centre of Europe and allows one to reach any point in Europe in record time via its motorway network and its airports. The security of property and people remains at the centre of the concerns of the political authorities. In 1930 the Pound Sterling was worth CHF 25.- Today the Pound Sterling is worth CHF 1.- What more can we say?
This article was originally published on the Alpine Property Intelligence website.